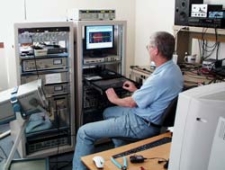 Milford, Massachusetts – THAT Corporation has recently expanded its dbx-tv line of digital TV audio decoding software to cover legacy TV audio standards worldwide, including BTSC, NICAM, A2 and EIA-J.
THAT is well known for holding key patents covering portions of the US BTSC standard for TV audio, which it has licensed to nearly every manufacturer of broadcast equipment or TV receivers around the world. Les Tyler, THAT's president, stated, "For many years, THAT has offered licenses to IC makers for digital implementations of BTSC encoder and decoder ICs. Chips based on our Verilog® BTSC code are ideal for digital products like PVRs, DVD-Rs, and high-definition TV sets."
Tyler went on to say, "We've developed decoder Verilog code that extends our previous intellectual property offerings well beyond BTSC, now covering all worldwide legacy TV standards, including A2, NICAM, and EIA-J.   This code makes it easy for IC, and TV receiver makers to include digital reception of legacy TV audio along with the newer digital forms of recording and broadcast."
Licenses to this new code are available now.  The technology will be marketed under the dbx-tv brand name.
THAT Corporation, founded in 1989, licenses patents, trademarks, and other intellectual property to the TV broadcast and reception industries.  Under the dbx-tv brand name, THAT offers digital (Verilog) implementations of legacy TV audio receiver standards covering all parts of the world, including BTSC, A2, NICAM, and EIA-J, in addition to analog FM stereo.  The company also makes and sells high-performance analog integrated circuits for professional audio manufacturers, including its well-known line of IC voltage-controlled amplifiers (VCAs) and RMS-level detectors used throughout the pro audio industry. The company is headquartered in Milford, Massachusetts with offices in Tokyo, Japan and Milpitas, California.
For more information contact:
THAT Corporation, 45 Sumner Street, Milford, MA 01757-1656 USA
Telephone: +1.508.478.9200; Fax +1.508.478.0990
Email: info@dbx-tv.com