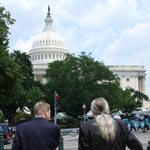 Will the Government Steal Your Stereo?
June 11, 2007, Washington, DC – In a letter addressed to several members of the Committee on Energy and Commerce, THAT Corporation Chief Executive Officer Leslie Tyler rallied the government to consider the television viewing experience of the more than 75 million Americans who own analog televisions, the kinds that rely on rooftop antennas, that will be adversely affected by the transition, if stereo sound is not made a mandatory component of the technical specifications of eligible converter boxes.
These consumers, primarily consisting of elderly, low-income and minority individuals, will be the key users of the National Telecommunications and Information Administration's (NTIA) converter box coupon program-a program THAT Corp. believes is flawed and failed to look out for the interests of America's disenfranchised.
According to the National Association of Broadcasters, elderly, low income and minority groups are expected to be affected by the DTV transition more than the rest of the population.
Bruce Leichtman, of the Leichtman Research Group agreed, "Clearly, a converter box is not enough to prevent millions of Americans from being disenfranchised during the Digital TV transition." "For about the cost of a postage stamp, stereo sound can be incorporated into the box to ensure a consistent viewing experience while meeting the current implementation deadlines. We need to ensure that millions of Americans will not lose their stereo sound as a result of the self-imposed deadlines," said Les Tyler, THAT CEO. Highlights from the letter include: "Congress did not intend for consumers to experience a degradation of television broadcast quality post-digital conversion. Nor did Congress intend that consumers would have to endure complicated set-up procedures and additional costs – over and above the purchase of converter boxes in order to maintain the same quality signal as a result from the government-mandated conversion to digital television." 'Under the coupon program regulations issued by NTIA (47 CFR Part 301, Docket Number: 0612242667-7051-01), the Agency failed to require, in its minimum standards for an eligible converter box, that stereo audio signals be present in the channel 3-4 RF connector at the back of the box."
"Because the NTIA regulation does not require this BTSC standard in the RF connector as a mandatory feature, American consumers who will rely upon the coupon program will likely be deprived of stereo audio after February 2009 unless they take additional steps to purchase additional sophisticated and complete complicated assembly procedures to restore today's standard audio features in the broadcast signal."
About THAT Corporation
Founded in 1989, THAT Corporation designs and sells high-performance analog integrated circuits for professional audio manufacturers, including InGenius® balanced line inputs, microphone preamplifiers, Analog Engine® dynamic processors, and industry-standard IC voltage-controlled amplifiers (VCAs). The company also licenses patents, trademarks, and other intellectual property to the TV broadcast and reception industries under the dbx-tv brand. The company is headquartered in Milford, MA, and manufactures semiconductors in its own fab located in Milpitas, CA. THAT maintains offices in Tokyo, Japan, Atlanta, GA, and Vashon, WA.
THAT Corporation, 45 Sumner Street, Milford, MA 01757-1656, USA
Telephone: +1.508.478.9200; Fax +1.508.478.0990
Email: info@dbx-tv.com