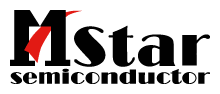 Milford, MA – dbx-tv®, a leading provider of audio intellectual property to the television industry, today announced an agreement with MStar Semiconductor (Taiwan). MStar, the world's leading provider of ICs for digital television, will integrate dbx-tv's signature audio product suite into MStar's market-leading digital television system-on-a-chip (SoC) solutions.
Responding to consumer demand for high-performance audio in the TV-viewing experience, MStar will incorporate dbx-tv's best-in-class TV-audio technologies: Total Sonics™  for enhancing TV audio and Total Volume™ for automatic loudness (volume-control) management.
"By optimizing dbx-tv's Total Sonics and Total Volume in MStar's TV SoC, dbx-tv's solution can achieve even greater audio performance in MStar's all-digital TV platforms than any other audio processing solution," said Kevin Kang, VP of Sales and Marketing, MStar Semiconductor.
"Our partnership with MStar is a huge step toward ensuring that TV viewers will enjoy the highest-quality audio experience," said Les Tyler, President of THAT Corporation (dbx-tv parent company). "With our dbx-tv audio enhancement algorithms embedded in their TV designs, MStar's TV-maker customers can compensate for small speaker size or acoustically-compromised placement. This ensures that the sound will measure up to the great HD picture."
dbx-tv's Total Sonics technology is unique in that it works in conjunction with Total Cal™, a test, measurement, and calibration environment which allows TV makers to quickly adjust Total Sonics to suit specific TV models. "With literally hundreds of different models to design each year, TV makers need a quick and effective solution for audio tuning," said Tyler. Kang added, "Total Cal gives our customers the tool they'll need to optimize the dbx-tv configuration to get the most out of each TV model with minimal time and effort."
About MStar
MStar Semiconductor, Inc. is recognized as the world leader in TV SoC ICs and total solutions for the digital home ecosystem. MStar solutions enable leading TV manufacturers to quickly produce market-leading products. MStar offers ICs for other high-volume consumer products including Set Top Boxes with Advanced Security and Mobile Phones. Listed on the Taiwan Stock Exchange, MStar is headquartered in Hsinchu, Taiwan and has development and marketing offices across the world.  For more information, visit www.mstarsemi.com.
About dbx-tv
dbx-tv's audio software enhancement solutions enable high-quality sound from TVs and consumer applications with tight audio design constraints. dbx-tv is THAT Corporation's signature suite of TV-audio Intellectual Property (IP), designed, marketed, and licensed to TV IC and equipment makers throughout the world. With a firm foundation in audio technology innovation, dbx-tv's legacy audio decoder algorithms – including the Emmy-award winning BTSC noise-reduction system that is part of the North American analog-TV audio standard — decode all the world's legacy TV standards — including NICAM, A2, EIAJ, and BTSC. dbx-tv technology has been used by the world's largest consumer electronics and IC manufacturers in over half a billion installations worldwide. dbx-tv is headquartered just outside Boston, with offices in Atlanta, Shanghai, and Tokyo. For more information, visit www.dbx-tv.com.
"Total Volume", "Total Sonics", and "Total Cal" are trademarks of THAT Corporation. dbx-tv and THAT Corporation are registered trademarks. All other trademarks are the property of their respective owners.