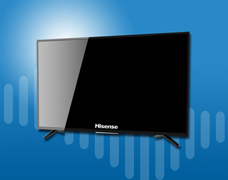 Hisense debuts H6 Series TVs with dbx-tv's exceptional audio suite
CES 2015, Las Vegas – dbx-tv® today announced that it has licensed its award-winning Total Technology™ audio enhancement suite to Hisense Company Ltd., the world's fourth largest television brand, for Hisense's U.S. debut of its H6 Series Ultra HD televisions. With dbx-tv technology, Hisense customers in the United States can now enjoy a superior audio experience directly from their televisions, without requiring additional audio equipment.
dbx-tv's Total Technology audio suite vastly improves the audio experience by making it possible for even small television speakers to generate detailed, immersive sound with deeper bass and decreased distortion. The suite includes a range of sophisticated sound-enhancing technologies that complement today's sleek, pencil-thin TV designs, delivering exceptional audio fidelity regardless of bezel width, speaker placement or price point. Consumers enjoy clear and crisp dialogue and an all-encompassing acoustic environment to draw the richest experience from movies, television programs and games.
"Our customers expect innovation and quality in Hisense television products, from exceptional display resolution to clear quality sound," said Jerry Liu, CEO, Hisense USA. "The addition of dbx-tv's precision audio technology to our H6 televisions will provide the very best experience and value for our customers."
"Whether it is the deep bass of a revved car engine in an action movie or the hushed tones of a dramatic scene, high quality sound is a critical element in delivering the optimum entertainment experience," said Les Tyler, President of THAT Corporation (dbx-tv's parent company). "Our Total Technology suite ensures that Hisense's customers will enjoy great sound from the audio system included with their TV sets."
dbx-tv's Total Technology audio suite combines multiple intelligent and innovative digital signal processing (DSP) based audio-enhancement technologies. Powerful audio features include sophisticated dynamic equalization to extend bass response, gentle overload protection to reduce distortion, and psychoacoustic filters to widen and enhance the stereo image. The result is acoustical accuracy that complements the ultra-high definition (UHD) display performance of today's latest televisions.  TVs with Total Technology sound as if they are equipped with the kind of bigger, more powerful speakers that can only otherwise be placed outside the limits of today's ultra-thin TV bezels.
Total Technology software is available via many of the world's most popular digital television SoCs (system-on-a-chip). Moreover, dbx-tv offers its Total Cal™ customization tool that automatically tunes all Total Technology parameters. This makes it easy for manufacturers like Hisense to take full advantage of Total Technology to get the best possible sound from each specific TV model.
About Hisense USA Corporation
Established in 2001, Hisense USA Corporation is a wholly owned subsidiary of the Hisense Company, Ltd., headquartered in Qingdao, China.
Hisense USA offers a broad range of technology driven consumer electronics products that are manufactured and distributed across North American, including televisions, refrigerators, air-conditioners, dehumidifiers, beverage coolers and freezers. Hisense USA sells into national retailers across North America, including Walmart, Sams.com, Costco, P.C. Richards, Canadian Tire and more. The Company has established R&D centers in Atlanta, Georgia and San Jose, California to enable localized product development and innovation.
Hisense Company Ltd. has production facilities in China, South Africa, Algeria, Egypt as well as Mexico and is one of the largest television manufacturers in the world with over 10 million televisions produced per year. The Company has sales offices in North America, Europe, Australia, South Africa, the Middle East and Asia while exporting products to over 130 countries and regions throughout the world.
See www.hisense-usa.com for more info.
About dbx-tv
dbx-tv's Total Technology audio software enhancement solution extracts high-quality sound from TVs and other consumer devices, even those with the tightest of design constraints. Invented in the 1980s, dbx-tv originated as the Emmy®-award winning BTSC noise-reduction system that became part of the North American analog-TV audio standard. Today, dbx-tv's signature suite of TV audio intellectual property (IP) has enabled better audio in more than a billion TVs, set-tops and other devices worldwide. dbx-tv is headquartered just outside Boston, with offices in Silicon Valley and Shanghai.
To learn more, please contact dbx-tv:
Email: info@dbx-tv.com
Total Technology and Total Cal are trademarks of THAT Corporation. dbx-tv and THAT Corporation are registered trademarks.