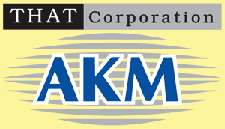 Milford, Massachusetts – THAT Corporation today announced the launch of a dbx-tv enabled BTSC TV-sound decoder IC by licensee Asahi Kasei Microsystems Co., Ltd. of Tokyo Japan (AKM). This new chip, the AK4140, is a complete, single-chip, alignment-free digital BTSC TV-sound decoder for BTSC markets such as USA, Canada, Mexico, Brazil, and Taiwan. The new chip is a part of AKM's Audio4home™ range.
The AK4140 decodes BTSC using digital dbx-tv technology licensed from THAT Corporation. According to THAT's president Les Tyler, "This all-digital implementation eliminates the many components needed in existing analog BTSC decoders. Our dbx-tv approach to BTSC decoding delivers high performance without any alignment, eliminating time-consuming adjustments during pre-shipment testing."
Mr. E. Murakami, AKM's Marketing Manager added, "The AK4140 directly accepts at its input the analog 4.5MHz aural subcarrier, and outputs 16-bit digital PCM data for all BTSC TV audio signals: Mono, Stereo, and SAP (Second Audio Program). The part senses the presence of the BTSC Pilot and, SAP signal, as well as SAP signal quality, allowing it to switch automatically to the appropriate audio signal (Mono/Stereo/SAP) based on the signals detected."
Mr. Tyler commented, "We're especially pleased to have worked with AKM on this project. The combination of AKM's superior A/D conversion technology plus THAT's dbx-tv expertise has resulted in a self-contained BTSC decoder that's especially easy to apply."
The AK4140 includes a soft mute and digital volume control, and supports several common digital output formats, including MSB justified and I2S. It also supports a TDM mode which permits cascading up to four devices to simplifying the data interface to a DSP in multi-tuner systems. The part accepts external master clock rates of 256fs, 384fs, or 512fs, and sample rates of 32kHz, 44.1kHz and 48kHz. Audio performance is very good, with maximum 0.3% THD+N and at least 70dB dynamic range.
THAT Corporation's dbx-tv technology supports decoding TV audio in all the world's legacy formats, including BTSC (the Americas, Taiwan), EIA-J (Japan), A2 (Europe, Asia), and NICAM (Europe, Asia). THAT's licensees include some of the world's most prominent IC manufacturers, including Analog Devices, Philips Semiconductors, and AKM . For further information about THAT's licensing program, contact THAT at info@dbx-tv.com.
The AK4140 is available in a 24-pin VSOP. Evaluation boards and samples are available now. To obtain more information about this IC, contact AKM, Audio & Video Business Operation, Nishi-Shinjuku 1-23-7, Shinjuku-ku, Tokyo 160-0023, Japan. In North America or South America, contact AKM Semiconductor (email: icinfo@akm.com).
The dbx-tv brand identifies a range of technology solutions for digital TV-audio decoding developed and licensed by THAT Corporation. dbx-tv provides high-performance solutions with high-quality sound.
THAT Corporation,
45 Sumner Street, Milford, MA 01757-1656, USA
Telephone: +1.508.478.9200; Fax +1.508.478.0990
Email: info@dbx-tv.com