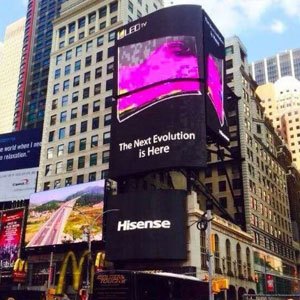 Total Technology™ audio enhancement gives consumers soundbar-quality audio from built-in TV speakers.
New York, NY  – dbx-tv® today announced the integration of its Total Technology™ audio enhancement suite in the Hisense 4K ULED H10 Series Curved Smart TV – 65" Class. dbx-tv's Total Technology is a complete range of precision technologies working together for optimal audio quality, creating the best sound possible from the TV's built-in high-performance speakers.
The premium sound quality of the Hisense H10 Series is the result of multiple digital signal processing (DSP) audio enhancement technologies from dbx-tv, including:
• Total Sonics™   – makes small speakers sound larger with rich, deep bass, crisp highs, a wide sound field and natural sounding vocals.
• Total Surround™ – envelops listeners in surround sound from all around using only two TV speakers.
• Total Volume™ – maintains even loudness when switching channels, programs, or sources, at commercial breaks, and within programs.
"Thanks to dbx-tv, the sound quality of our new H10 Series TVs matches its stunning picture, using the speakers built into the sets," said Jerry Liu, CEO Hisense USA. "We're proud to bring consumers an immersive audio experience that enhances the entertainment value of movies, TV shows and video games."
"By making built-in audio performance a priority, Hisense is setting a new standard for the entire TV market," said Les Tyler, President of THAT Corporation (dbx-tv's parent). "Armed with our technology, Hisense can give its customers high-end sound, without the need for external soundbars or speakers."
dbx-tv's Total Technology audio suite makes it possible for even small, built-in television speakers to generate detailed, immersive sound with deeper bass and decreased distortion. The resulting acoustic performance complements the ultra-high definition (UHD) display performance of today's latest televisions. TVs with Total Technology sound as if they are equipped with much bigger, more powerful speakers than consumers would expect to find built in to today's ultra-thin TV bezels.
The Hisense Curved 4K ULED TV is available for pre-order on Amazon.com for $2,999.99.
About Hisense USA Corporation
Established in 2001, Hisense USA Corporation is a wholly owned subsidiary of the Hisense Company, Ltd., headquartered in Qingdao, China.
Hisense USA offers a broad range of technology driven consumer electronics products that are manufactured and distributed across North American, including televisions, refrigerators, air-conditioners, dehumidifiers, beverage coolers and freezers. Hisense USA sells into national retailers across North America, including Walmart, Sams.com, Costco, P.C. Richards, Canadian Tire and more. The Company has established R&D centers in Atlanta, Georgia and San Jose, California to enable localized product development and innovation.
Hisense Company Ltd. has production facilities in China, South Africa, Algeria, Egypt as well as Mexico and is one of the largest television manufacturers in the world with over 10 million televisions produced per year. The Company has sales offices in North America, Europe, Australia, South Africa, the Middle East and Asia while exporting products to over 130 countries and regions throughout the world.
RELATED LINKS
www.hisense-usa.com